A simple and magical self-led community event to celebrate Christmas together in Sea Mills and Coombe Dingle, Shirehampton, Lawrence Weston and Avonmouth. Light up your home and explore the displays of others with a fun 'light bingo' activity.
The trail will run from 12th – 27th December, with lights on from 5.30 – 8.30pm each day.
There are also 2 adults bikes, £150 Love2Shop vouchers, and other active travel goodies up for grabs!
Light up your home
If you light up your home this December you could win a bike! Just add Christmas lights to your house, garden, or window to win. Every house will then be added to the trail map for others to visit and enjoy. Sign up by Friday 4th December for your chance to win.
Join the trail
Sign up to receive the 4 Villages Light Trail map. Visit as few or as many homes as you like, just enjoy being outdoors and sharing the seasonal good spirit.
Play light bingo as you make your way around! Spot different symbols in the lights, like stars and reindeer, and cross them off on your bingo card. More fantastic prizes to be won for taking part!
To join the fun go to severnnet.org/rideandstride/4villageslighttrail/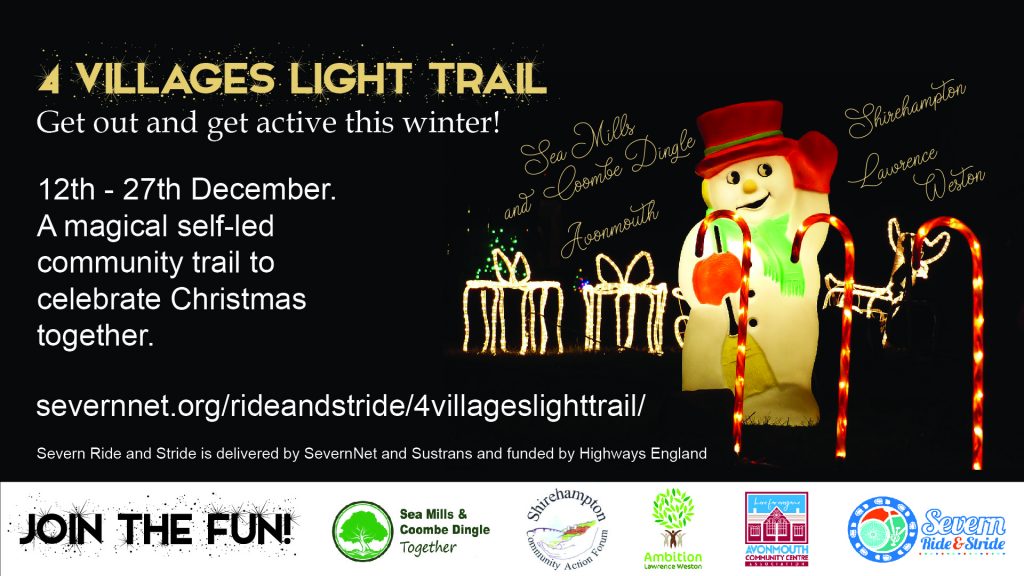 ---
The trail is brought to you by the Severn Ride and Stride Project which is delivered by SevernNet and Sustrans and funded by Highways England.
For more details email rideandstride@severnnet.org.
Words by Alexa Bingham from Severn Ride and Stride